Joint-Master "Physics of the Earth (Geophysics)"
A programme offered by the University of Vienna and the Comenius University in Bratislava
Physics of the Earth studies our physical environment, and addresses the functioning of the Earth and planets – and some of the major challenges facing humanity through its dependence on the physical environment, e.g. natural resources and hazards, and how to deal with them.
Why study Physics of the Earth?
For further information please click here or on the picture.
Description
The Joint Master study
is a two-year programme offered by the major universities of Austria and Slovakia: University of Vienna and Comenius University in Bratislava
builds on the strength and complementary expertise of the two universities, in wave propagation, data analysis, and applications in seismic hazard, nuclear verification, the oil/gas industry, and national and international organisations


broadens students´ experience through experiencing different cultures, and provides good job opportunities.
Students will
learn how to observe and mathematically describe phenomena occurring in our physical environment
extend their mathematics and physics background for Physics of the Earth, and learn quantitative methods
advance their analytical thinking, learn to work independently, and develop problem-solving competence for basic research and industrial application
explore applications, e.g. exploration-related techniques, seismic hazard, and others.
Structure
The Joint Master programme "Physics of the Earth" extends over 4 semesters with a total students' workload of 120 ECTS.
5 compulsory modules (46 ECTS in total) develop the students' basic knowledge of mathematical and numerical tools and of the main principles of the physics of the Earth.
Students deepen their knowledge and focus on specialization topics within two compulsory elective modules with an extent of at least 23 ECTS and 15 ECTS respectively by selecting courses out of specific lists.
In the Master module (6 ECTS) students learn to discuss and present scientific results closely linked to their thesis content.
The study is completed by a Master thesis (28 ECTS) and an oral defense with public presentation (2 ECTS).
Courses are offered either at Comenius University in Bratislava or at University of Vienna. A short graphical guide of the study specifying the module contents is provided here.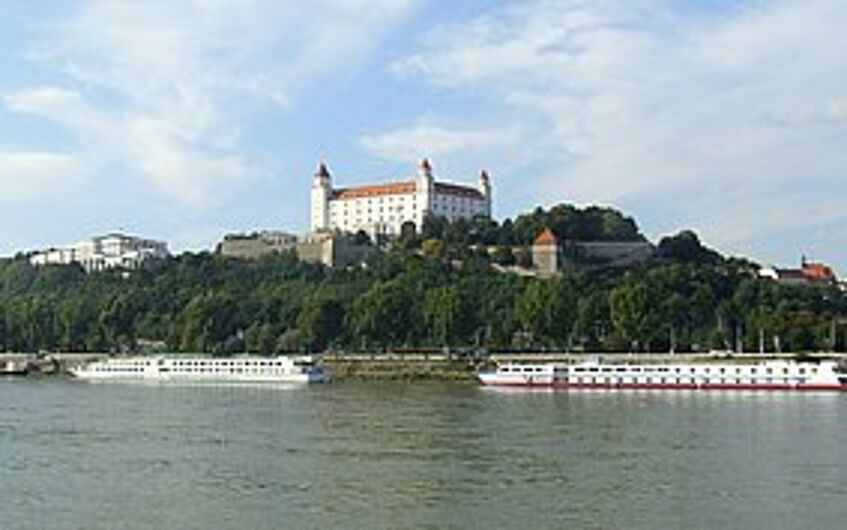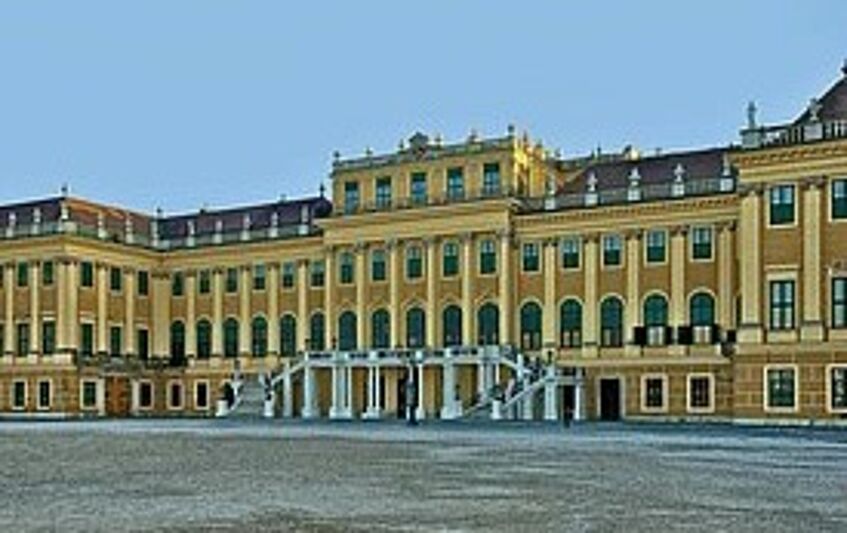 Admission
Students having earned a Bachelor degree in Physics are eligible. Bachelors of geophysics programs or related fields (astronomy, meteorology) will have access with restrictions according to the national legislation.
Students have to apply successfully for admission to both Comenius University in Bratislava (CUB) and University of Vienna (UW) strictly complying with the following procedure:
Students shall first apply for admission at CUB.
CUB accepts students with a completed bachelor program in Physics at the UW or the CUB without further examination or restrictions (direct access).
Applications by students without direct access (i.e. having completed a bachelor's study programme different from Physics) will be individually evaluated jointly by CUB and UW. Based on the evaluation of the application, an admission exam at CUB may be required.
In addition, students' preceeding studies need to be equivalent to studies in Slovakia. Applicants , who received their bachelor degree from institutions outside Slovakia, need to provide a certificate of degree equivalence confirming that their bachelor's degree is recognized in Slovakia.
The deadline for completing the admission procedure at CUB, i.e. admission exam and Certificate of degree equivalence delivery, is August 31. Therefore students have to apply for admission before April 24. Students who complete their bachelor study later than April 24 can apply for admission as well. Those students should complete their study early enough to keep the August 31 deadline for finalizing the admission procedure at CUB.
Immediately after having completed the admission procedure at CUB, students have to register at UW.
UW will accept only those students who have a positive notification by the CUB.
Applicants become students of the joint programme only after having been officially accepted and enrolled at both universities.
Beginning the study is only possible in a winter semester, as is the best path through the master study.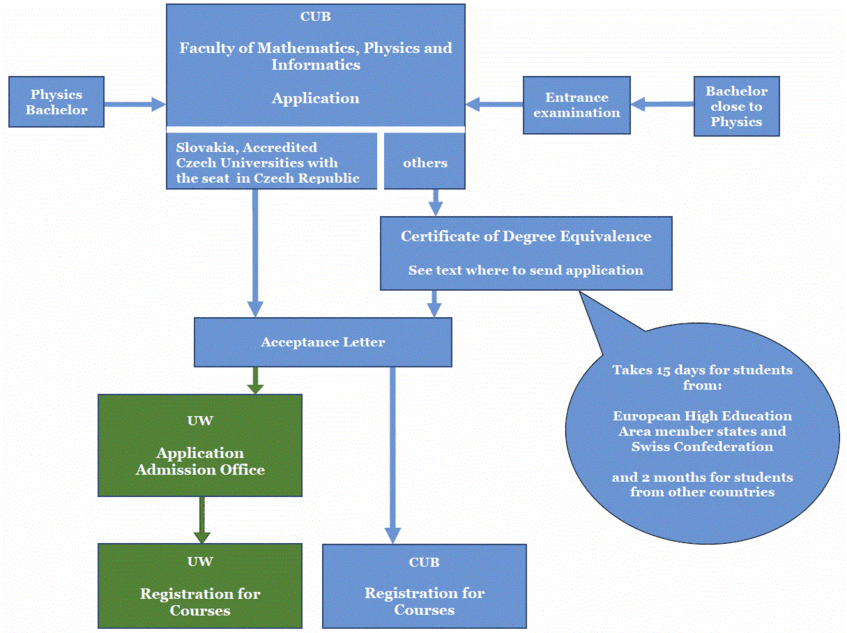 Detailed information, in particular on how to apply at the respective universities, is provided here: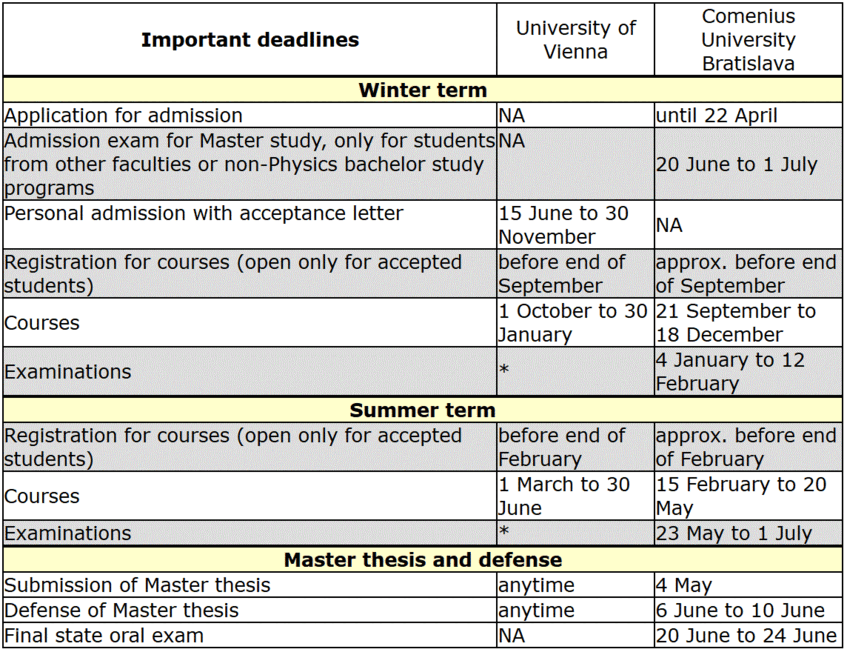 * In total 4 examinations are scheduled for courses with non-continuous assessment: after the end of the course and at the beginning, in the middle and at the end of the following semester.
Exclusion from Studies
Different national laws apply to the joint master program, hence both systems have to be considered. If a student loses his right to continue his/her studies at one partner university, the other partner university excludes the respective student as well.

CUB:
In order to continue their studies, students must acquire at least 40 credits by the end of the first academic year (AY) (31 August).
In order to extend their studies to three years, students must acquire at least 80 credits by the end of the second AY (31 August). Complete semesters within interuption periods are not included in the length of study.
Reasons for exclusion from study at CUB include:
not meeting the requirements of the monitoring stage of study
not successfully completing a subject at the relevant university within the required number of attempts (according to the study regulations at CUB)
not paying tuition fees
decision made by the disciplinary committee
exceeding the number of limited semesters for the whole programme
Reasons for exclusion from study at UW include:
not successfully completing a subject at the relevant university within the required number of attempts (4 attempts in total)
not paying tuition fees or Student's Union fees
not continuing studies every semester.
Contact
University of Vienna: Univ.-Prof. Dr. Goetz Bokelmann, Department of Meteorology and Geophysics, A - 1090 Wien, Josef-Holaubek-Platz 2, UZA II, room 2D503, Phone: +43 1 4277 5372, e-mail: goetz.bokelmann(at)univie.ac.at
Comenius University in Bratislava: Prof. RNDr. Peter Moczo, DrSc., Faculty of Mathematics, Physics and Informatics, Comenius University Bratislava, Mlynska dolina F1, 84248 Bratislava, Slovak Republic, Phone: +42 1 2 65429025, moczo(at)fmph.uniba.sk